Divorce Lawyer
Local Divorce Lawyer in Corpus Christi, Texas
Meet Texas divorce attorney Bobby Bourlon.  Since 1997, Bourlon has helped families resolve marital conflicts.

Ending a marriage is a major life decision with serious emotional and financial consequences. This period of transition is likely to be incredibly challenging and stressful, even if your separation is mutual.
The choices you and your partner make about ending the marriage will greatly impact your future.
The following issues are some of the decisions that must be made:
division of marital property

allocation of debt

spousal maintenance (alimony)

child support

child custody 
In order to reach a fair and equitable divorce settlement, you must have knowledgeable and supportive legal representation to protect your rights and interests.
The Bourlon Law firm has extensive expertise in family law and the legal procedures and statutes unique to Nueces County.
We understand and respect the sensitivity involved in family matters and pride ourselves on being a compassionate advocate for our clients.
If you're ready to talk about your options for yourself and your family, schedule a free consultation today with lead attorney Bobby Bourlon at (361) 289-6040. 
Mr. Bourlon will be personally involved in every aspect of your case – from the initial consultation to filing the divorce petition to negotiating a settlement through mediation, and, if needed, going to trial.
Whatever issues may arise, Mr. Bourlon is skilled at finding a solution to any problem. You will be in good hands.
The First Step in Divorce: Filing the Petition
To be eligible for a divorce in Texas, you must have been a resident of the state
continuously for six months, and a resident of the county where you intend to file for 90 days.
Once eligibility has been established, you must file a petition for the dissolution of marriage with the District Clerk's Office at your local county courthouse. The filing fee in Nueces County is $242.
The petition will include information related to marital property, children and the grounds for divorce.
Since Texas is a "no-fault" state, neither you nor your spouse needs to assign "blame" or misconduct for the dissolution of the marriage.
Most divorces are filed under "Insupportability" which means that a "discord or conflict of personalities" has prevented any "reasonable expectation of reconciliation."
If you choose to forego the no-fault option, Texas law allows you to file for divorce under other grounds, including:
Adultery
Abandonment
Confinement for incurable insanity for three years
Conviction of a felony and imprisonment for over one year
Cruel and inhuman treatment
Living separately for three years
Is Your Divorce Contested or Uncontested?
Once the petition is filed with the court clerk, you must give your spouse "legal notice" that you have filed for divorce.
This can be accomplished in two primary ways:
Hire a sheriff, constable or process server to formally serve your spouse with the petition
Send your spouse a waiver of citation which gives him/her the opportunity to waive the need to be formally served
If you have formally served your spouse, he/she has 20 days to provide a written response to your complaint.
If your spouse does not agree with all of the items outlined in the petition, an "answer" will be filed declaring that he/she wants to retain certain rights.
This sets the stage for a contested divorce.
If your spouse agrees to the terms of the divorce and signs the waiver, this indicates that the divorce will be uncontested and is not headed for trial. You and your partner will work together to resolve all conflicts that stand in the way of dissolving the marriage.
Fast Divorce in Texas:  On average, an uncontested divorce will take 90 to 120 days.
Establishing Temporary Orders
Between the day your spouse is served and the date the court assigns for your temporary orders (usually two to four weeks), Mr. Bourlon and your spouse's attorney will try to negotiate temporary orders in lieu of a hearing.
Temporary orders are meant to establish temporary decisions on such matters as:
who will reside in the marital home
use of family vehicle
child conservatorship and visitation arrangements
child support
Assets and Liabilities:  What's At Stake?
Once temporary orders are in place, you and your spouse will enter into a process called "discovery."
In discovery, all issues relevant to the divorce are put on the table and information is gathered. Both parties will outline their individual requests pertaining to:
division of marital estate
allocation of debt
child conservatorship and visitation
spousal maintenance
any other relevant issues
Strive For Settlement Through Negotiation and Mediation
After each party has obtained valuable information during discovery, there should be an
earnest attempt toward resolving the issues through a settlement.
As your lawyer, Mr. Bourlon can effectively and passionately engage in direct negotiations with your spouse's attorney on your behalf.
There is an opportunity for you and your spouse to take part in mediation — a process involving a neutral third-party mediator. The mediator facilitates agreement on contentious issues with the hope of achieving dispute resolution.
Mediation provides a non-adversarial environment to discuss division of property, parenting arrangements, child and spousal support.
Do you really want a court or jury to make those decisions for you?
Are We Going To Trial?
If negotiation and mediation fail, either party can request that the court set the case for trial.
A trial can be before the court or before a jury upon request.
At Bourlon Law Firm, we strive to achieve successful outcomes in negotiation or mediation to save you time and money. If we need to go to trial, we will be well-prepared and will aggressively fight for your rights.
Potential Divorce Conflict #1: Dividing the Marital Estate
Community Property: What's Mine is Yours
Texas is one of only nine states that enforces community property rules.
This means that any property or assets acquired or income earned during the marriage will be split equally between both spouses. Similarly, all debts incurred during the marriage are the responsibility of both parties.
Despite the community property law's recommendation for 50/50 distribution, the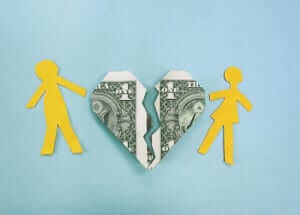 court has the right to adjust the division in whatever way they believe is fair.
Certain factors are taken into consideration about each spouse, such as:
education
health
age
earning capacity
who is the primary caregiver of the couple's children
At any time in the process, you and your spouse have the opportunity to negotiate a settlement of property and submit it to the court for approval.
Separate Property: What's Mine is Mine
A spouse who wants to keep an asset free of equal division must convincingly prove that it is separate property. Separate property is anything that either of you owned before marriage or acquired after your separation.
It could also include gifts given by a friend or family member to one spouse alone, or an inheritance bequeathed from a relative.
Potential Divorce Conflict #2:  Spousal Support Eligibility
In Texas, alimony is referred to as "spousal maintenance," or the responsibility of one spouse to financially support the other after divorce. This only comes into play if the division of property settlement did not provide one spouse with enough property to adequately meet his/her minimum reasonable needs.
In addition one of two scenarios must apply:
1) The spouse seeking maintenance must prove that he/she is unable to earn sufficient income due to a physical or mental disability of either themselves or of their child; or they have been married to the other spouse for 10 years or more.
2) The paying spouse must have been convicted of an act of family violence as defined by Texas law either within the last two years of marriage or while the divorce suit is pending.
Despite a spouse's eligibility, the spouse may not be granted spousal maintenance.
The court has the authority to consider various factors before granting the order, including:
educational background
duration of marriage
spousal age
work history
fault/no fault divorce
familial contributions
attempts for seeking employment.
A spousal maintenance reward will include a monthly payment of either 20% of a spouse's net income or $5,000 – whichever is lower.
The duration of support depends on the number of years married:
Less than 20 years of marriage equals five years of support;
20-30 years equals seven years of support;
30 years or longer equals ten years of support.
Potential Divorce Conflict #3: Protecting Your Children
Conservatorship (Custody)
When children are involved in a divorce case in Texas, there are key decisions to
be made regarding issues of:
conservatorship
child support
access or visitation
In every scenario, the family courts will always act in the best interests of the child.
Conservatorship determines the rights, responsibilities, benefits and burdens of the child/parent relationship.
There are two types of conservatorships in Texas: managing and possessor.
These rights can be:
exclusively granted to one parent as a sole managing conservator
shared between parents as joint managing conservators, or
one parent may only have access to the child, but no decision-making authority as a possessory conservator
In Texas, a "joint conservatorship" is presumed to be in the best interests of the child. This arrangement gives both parents access to the child and shared decision-making responsibilities (education, financial welfare, medical care, religion, involvement in extracurricular activities, etc).
One parent will be named the custodian or "primary managing conservator" because he/she provides the primary residence for the child. The other parent will be the "non primary conservator" and will get visitation per a schedule determined together by the parents or assigned by the court.
Child Support
In Texas, the amount of child support the custodial parent receives is determined by the percentage of the noncustodial parent's net income. The court established formula is as follows:
20 percent of net resources for one child
25 percent for two children
30 percent for three children
35 percent for four children
40 percent for five children
No less than 40 percent for six or more children
Are You Involved In A Military Divorce?
Bourbon Law Firm represents military personnel and their spouses all over the world in divorce cases.
Military divorce procedures can be more complex that civilian divorces because they are governed by state laws and federal laws.
Whether you are a member of the military or a military spouse, Mr. Bourlon can help you navigate how the laws will affect you and develop a strategy for a favorable outcome.
He can answer questions pertaining to:
whether you can file your case in a Texas court
how your military status will impact child custody
how much child support you are likely to pay
how the divorce may impact your retirement
At Bourlon Law Firm, we are committed to helping families resolve legal disputes during difficult times. Don't wait another minute to start rebuilding your life.
Give us a call today (361) 289-6040. We offer affordable flat fee arrangements for all family matters. Payments plans are available.
Fill out the quick contact form below now